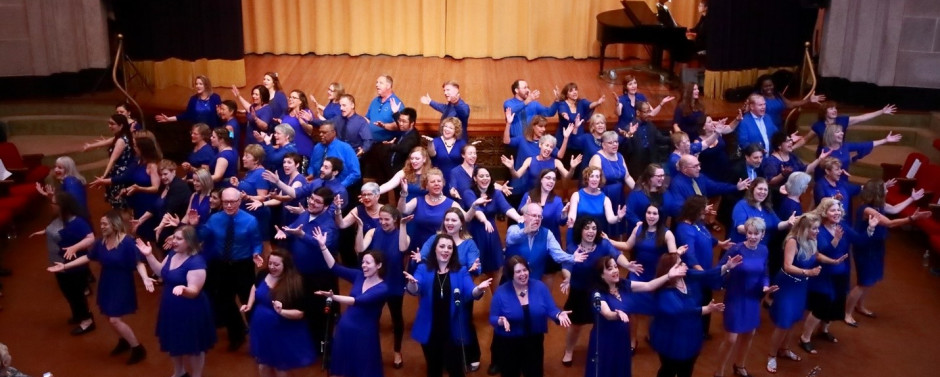 The Alexandria Singers is a choral arts nonprofit dedicated to providing high-quality vocal performances in the pops genre. With their diverse repertoire and exceptional talent, the ensemble has captivated audiences across the DC Metro area and in their hometown City of Alexandria. Comprised of over 70 auditioned volunteer voices, the Singers continue to inspire and uplift their community through the power of music.
Mission
Our mission is simple and clear: Artistry, Education, and Service.
History
The Alexandria Singers was founded in 1975 by 16 Alexandria residents who dreamed of a chorus distinguishing itself with a pops repertoire, which was then and still is a unique set aside from the many traditional choral organizations in our region. Interim Music Director Nancy Reid was succeeded by Barry Hemphill (1975), then by Roger Oliver (1978 to 2006). Les Cameron became Interim Director in 2006 and Bill Colosimo became Music Director in 2007. The Alexandria Singers have come a long way in their nearly 50 years of performing!
DEI/A Statement
For the Alexandria Singers, "diversity" means that our membership, our repertoire, and our  audience reflect the greater community in which we live and work. "Equity" means that we will  strive to ensure that all participants and audience members have the tools to participate in our  rehearsals and concerts. For us, inclusion and access are a matter of kindness and principle; we  intend to create a supportive atmosphere where a lack of musical training does not prevent full  and joyful participation. 
In order to live these principles, the Singers pledge to: 
Invite people from all walks of life to audition for and perform with our chorus and  provide appropriate accommodations for singers with disabilities. 
Include and welcome the full participation of all peoples within our community and  highlight the many artistic contributions of populations who have historically been under represented or subject to discrimination because of their background, identity, and/or  disability. We hope to do this through showcasing and educating audience goers with  compositions from varied cultures and composers of all identities and backgrounds and  being at the service of and allied to anti-oppression frameworks. 
Present our informational and marketing materials in more than one language to include  non-English speakers in our musical community. 
Recognize that great singers come from a variety of communities, some of which have  modest incomes. We will do our best to ensure that everyone has an equal opportunity to  join us in song. 
Through our efforts to diversify our artistry, membership, and audience we will fulfill the  Singers' mission to educate and serve the greater Alexandria community through our performance of popular music. We invite your thoughts and suggestions on how we can best  accomplish this mission: please contact us at [email protected].