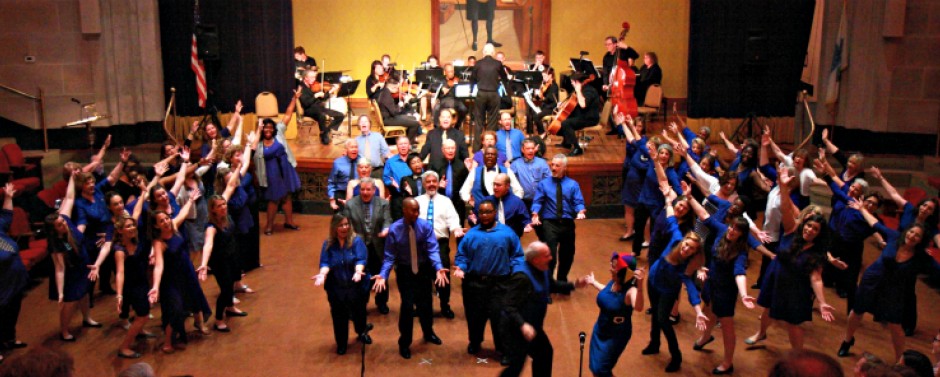 Mission
The Alexandria Singers' mission has remained steadfast; to perform American popular and patriotic music; to inspire new generations of singers; to broaden our reach to include all ages within the American culture; and to celebrate this music by presenting it locally, nationally and abroad.
History
The Alexandria Singers was founded in 1975 by 16 Alexandria residents. The group's American popular music repertoire distinguishes it from other area choirs. Interim Music Director Nancy Reid was succeeded by Barry Hemphill (1975), then by Roger Oliver (1978 to 2006). Les Cameron became Interim Director in 2006 and Bill Colosimo became Music Director in 2007. Ms. Reid served as accompanist until 2000, succeeded by Lisa Gibbs-Smith until 2006, Meg Slachetka until 2009 and current accompanist Linda Hemphill. Choreographer Pier Stock was succeeded by Geri Geis (1990 to 2005) and current Creative Director Karen Reedy.
The Alexandria Singers have come a long way in their 40 years of music. Currently, The Singers are the premier "pops" chorus in the Washington, DC area. By day, these 70+ talented men and women, of all ages and backgrounds, make the Nation's Capital hum in varied careers. On stage, they dazzle audiences performing various types of American popular music. Over the decades, the Singers have represented Alexandria abroad and in countless area venues such as the Kennedy Center, Verizon Center, the White House, and DAR Constitution Hall. In addition to their continued focus on artistic excellence, the Singers maintain their commitment to the Alexandria community by singing at local City events and music series, senior centers, and community shelters.
Now, 40 years later, the Singers are better than ever. Their
creative team
, headed by
Bill Colosimo
, beat "Glee" to the punch. The Singers memorize all their music and now perform directly to their audience without a director, weaving songs together through a light-hearted, family friendly story. This artistic challenge greatly enhances the group's sound, liveliness and stage presence. More important, it delights audiences. The Singers have a proud history and their future is bright.