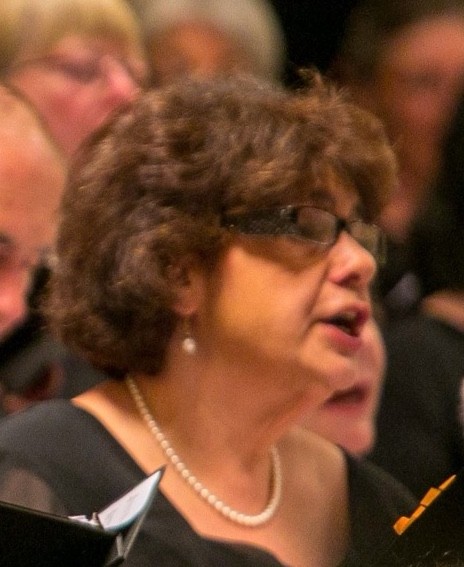 Membership Vice President
Rona grew up in Brooklyn, New York, where she sang in her high school chorus and was active in musical theater in high school and at Brooklyn College.  She graduated from the University of Wisconsin, Madison with a degree in TV and Film where she produced a sketch comedy TV show called Comic Relief for the Madison, Wisconsin PBS affiliate, WHA, and worked as a producer at one of the first government access cable television services in the country. She worked at the National Cable Television Association after moving to northern Virginia.
She earned a Masters Degree in Computer Science from American University and utilized both her degrees working as a computer specialist at PBS and a computer programmer for TVAnswer  She left work to stay home with her daughter, Marissa, when she was born 21 years ago.
Rona served on the Board of Directors of Rockspring Preschool as Second Vice President and again as Adult Education Chair.  She was a Girl Scout Leader and Room Parent for most of her daughter's elementary school years.  She completed the Master Gardeners of Northern Virginia program, co-created their Ready Set Grow educational program and was their lead teacher in the Arlington County Public Schools.  She began substitute teaching in 2007 and now teaches primarily Kindergarten classes for Arlington County.  She recently completed a three year term on the Chesterbrook Swim and Tennis Club Board of Directors as Social Chair and continues to work with the club on strategic planning.
Her daughter, Marissa (an astute critic, even as a baby) would scream and wail whenever Rona tried to sing to her, and when Marissa left for college, Rona returned to singing. She joined the Arlington Community Chorus for the fall, winter and spring sessions of 2013-2014.  During that time, she came to see one of her colleagues perform with the Alexandria Singers.  She was blown away, not only by the amazing performances, but by how welcoming the Singers were to her and how much fun they were having.  She decided to try out in the fall of 2014 and has found a home and much joy with the Singers.